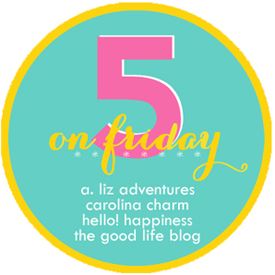 1) The fact that it is starting to feel like fall here in SC! Well kind of, we had a little tease one day this week. I jumped at the chance to throw on my favorite TB Caroline flats, and a pair of jeans!!
(so much more comfy than the Revas).
2) The funny things that have been coming out of Carson's mouth lately. This one takes the cake for the one that made me laugh the hardest. So we have this mean cat that always sits on our porch (I hope my neighbors aren't reading this ha)! Anytime Carson has tried to pet him, he bites and hisses at him. Poor Carson gets so upset because he loves animals so much. Well yesterday morning on the way to school he says, "bye bad cat, I sure hope you go to see Jesus soon". Ya'll I about peed my pants. Where do they come up with this stuff?! On a bright note at least he hoped he would see Jesus 🙂 He is such a clown.
3) We just found out we have tickets to go see the band
FUN
next Tuesday night at the Daniel Island stadium!!! I am so stinking excited!!! I love, love, love them!!
4) We are ready for Halloween around these parts! Carson already has two costumes, we have our candy ready(which I have almost taken out), and I am pretty sure Taylor is going to be a ladybug.
(hope they still have this costume).
5) This man turning 35 on Saturday!!! Happy early birthday babe! I seriously couldn't have chosen a better husband or father for our kids. I love you Todd! I hope I can make this birthday as awesome as you make everyday.
(and in that case I better try to pull some shit together soon ha. Hope enchiladas and cupcakes count as awesome )!