What a perfect name for such a perfect dress! The mix of colors in this dress play down all of the chevron, and make it a showstopper. It's a summer must and under $100.00.
L'Occtine divine cream
I have never in my 29 years of living spent this much money on a beauty product. But my skin isn't getting any younger, and this year I have noticed a huge difference in the way it looks and feels (not in a good way). After some research and recommendations from friends this jar is on its way to my house (it better make me look like a teenager).
I love a small pendant necklace. I think they look great alone or paired with a layering necklace. The pink is just perfection, but the black and green are lovely too.
Embellished shift dress
I feel like I am all over the place today with a mix of summer and winter. I mean we are getting snow tomorrow and then we will be back in the mid 70's by the weekend. I just couldn't help but fall head over heels for this dress. I mean that neckline is amazaballs!!
Girls quilted peacoat
How adorable is this little quilted peacoat? Taylor needs this jacket! Right now at J.Crew
you can save an 40% off all sale with code *byewinter*. It also comes in a pretty purple and light gray.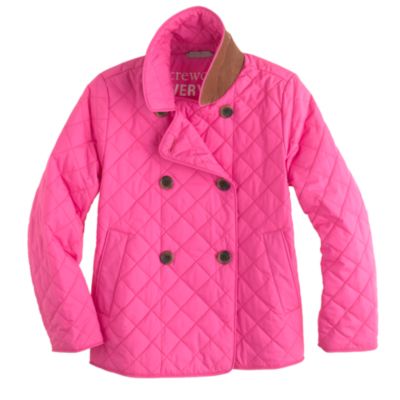 Vintage sweatshirt
Speaking of J.Crew how pretty is this sweatshirt. I actually saw it in the store last week, but it wasn't on sale. Now it's $59.50 with 40% off that, it's a real steal! I love a comfy sweatshirt that is still pretty 🙂
North Face vest
I love the look of a vest. It can totally make a lounge outfit look chic, or be paired with jeans and boots for a little more dressy effect. This blue is absolutely stunning. This one is 25% off right now too, which is rare for North Face.
Gap ruffle sleeve dress
I die. My mom just ordered this dress for Taylor, and I can't wait to get my hands on it! Do yourself a favor and go checkout all the pretty new arrivals for baby and toddler girl! You will be shocked at the cuteness, I promise!
And right now save 40% off all new arrivals and extra 50% off sale styles with code MORE.