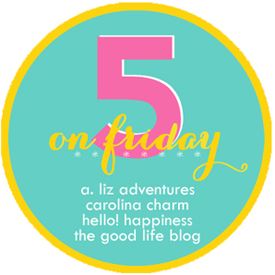 1) Getting to hold a snuggly newborn baby. Is there anything better than a newborn? Look how happy Taylor is about the situation, she loves a baby too. Yeah right, she wanted that baby out of my arms about 5 minutes later. Nobody but Miss Tay Tay gets mamas undivided attention ha!
2) To hosting playgroup twice this week! So fun watching all the little ones have a blast while us mamas enjoy a glass of vino and chat away 😉 Don't know what I would do without these ladies! Love them all so much!
3) The fabulous
Nordstom Anniversary Sale
! To me this was the best one yet! I made out like a bandit, and we are all set for fall! I love feeling ahead of the game and getting a good deal 😉
4) To having talented friends! I mean really, watch this video and tell me this isn't real talent? Yeah this is what we do at playgroup, don't judge 😉 Now ladies remember this all happened at my house first when y'all become famous 😉
5) Last to these two sweet faces leaving me for the weekend. I mean not going to lie half the time they drive me bat crazy, but goodness I am going to miss them. They are going to stay with Mimi and Papa for the weekend, and I know they will have so much fun! Plus Todd and I are really excited to have a weekend to ourselves. We plan to go to the movies, out to dinner with friends, and do some much needed yard work. O yeah and sleep in….ahh cant wait!